Going into the Yankee Yarn shop is a little like going over to my cousin's house. Our Fearless Leader Sara is from Louisiana and I am from Texas. We are kindred spirits not only bound together by our birth nation or the fact that we boldly set out to make our ex-Pat existence nothing short of awesome sauce. Of course, we have the whole knitting connection and we are both Mums of crazy dual national children. But our easy friendship sparked because we recognised we were both surreptitious rebels.
In fact, Resident Designer Jen and even our lovely, serene Resident Experimenter Nori have a maverick streak in them. Most of the ladies that come into the shop have a bit of an untamed flair about them, to be fair. The knitting shop is like an outlaw's hangout and we are all like wild, Wild West gunslingers— only our holsters hold balls of yarn and we are armed with hooks and needles.
So when Stylecraft came out with an exciting, new yarn "that captures the spirit and heritage of the denim" that is, incidentally, the trend this season, it made all of our eyes big with wonder. Jeanie Denim Look is inspired by the timeless and classic hues of denim. It is available in 100g balls in four shades: Dixie, Memphis, Delta, and (to my heart's joy) Texas. The colours go from the retro 70s indigos to lighter blues like the stonewashed fashions of the 80s. Imagine the pieces you can make! Whatever your denim style — country western, rocker, chic, student-look—it is all up to you!
It is aran weight yarn, but its cotton acrylic blend means you can throw it in the wash and tumble dry without ruining the garment. It is soft. One of our customers said it was like working with chenille. Another said it was like working with velvet.
"Fuzzy feel good to the touch," said Yolie Hume. "I am working on a cable sweater and it just feels so lush!"
"On circulars, it doesn't snag," said Becca MacDougal. "It does not split either. " The yarn keeps its integrity even after you have to pull it all back and start over.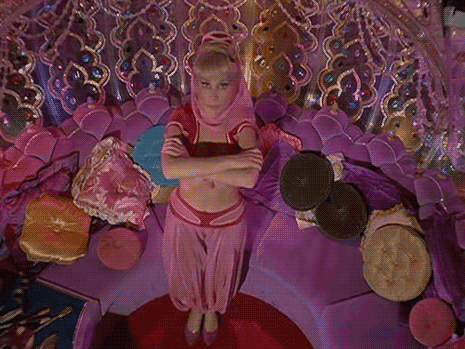 "I wish I could blink like I Dream Of Jeanie and have a sweater," Said Our Fearless Leader Sara.
We have the patterns in the shop and will be getting more. I am thinking of challenging Our Resident Designer Jen to whip up a western style cardigan to go with my sundress, cowboy boots and Stetson. Watch this space.